GreenSuite offers many features to help manage peak demand.


Alerts: GreenSuite's alert engine could have automatically delivered peak alerts during defined time periods configured by the utility once the temperature reached a certain level.
Reward Points: Reward points would have given utilities a method to incentivize customers to perform certain efficiency actions.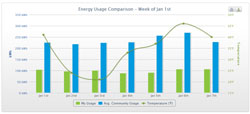 Peak Demand Usage: GreenSuite allows utilities and their customers to view and analyze meter data in many formats.
GreenScore: The GreenScore provides utilities a way to rank and score customers based on their behaviors during peak demand timeframes.

My Plan: By allowing customers to plan and track efficiency improvements within GreenSuite, customers would have been able to see how their actions helped them during peak demand times.
Peak Demand Education: GreenSuite's education section provides efficiency tips and best practices to further education customers what to do during peak demand.
Community Comparisons: Customers could view their usage graph and compare their usage during peak times against those in their community.

Sign up for a demo and view how GreenSuite can help with Peak Demand.